Long lines of traffic clogged the only road out of the Canadian city of Yellowknife, after authorities ordered the first-ever evacuation of a capital in the face of a growing fire.
More than 20,000 residents – the entire population – were given until noon on Friday to leave their homes, as water bombers flew through the night and authorities warned the blaze could reach the city by the weekend.
Evacuation flights are also scheduled to begin Thursday afternoon and will continue until everyone has left town safely, Yellowknife Mayor Rebecca Alty said. She warned residents to bring water and food with them to the city's airport as they could face long waits to catch a flight.
The out-of-control wildfire – which was least measured at 163,000 hectares wide (402,000 acres) – is currently 16 km from Yellowknife, the capital of the vast and sparsely populated Northwest Territories. The city lies about 250 miles south of the Arctic Circle.
Canada is going through its worst wildfire season, with more than 1,000 active fires across the country, including 236 in the Northwest Territories.
Prime Minister Justin Trudeau was to convene a meeting of the Incident Response Group, a group of cabinet ministers, senior officials and ministers that meets in times of crisis.
The fire near Yellowknife also prompted the evacuation of several other nearby towns, including the Dene First Nations communities of N'dilo and Dettah.
"The reality is that we have been fighting this fire for over a month. This fire burned deep, this fire burned hot, and it found its way through several different sets of [control] said Mike Westwick, Northwest Territories Fire Information Officer.
As thick smoke blanketed the city, traffic slowed down the main road into the town of Fort Providence, where hundreds of people were sleeping in their cars overnight in a gas station parking lot.
Linda Croft, the Big River gas station manager, said traffic had been heavy since Wednesday morning as people tried to escape. "It's lined up along the highway, with no end in sight," she said.
More than 2 million hectares of the territory have been burned this season, and more than half of its population is now under evacuation orders. Roads out of the region also pass through areas with active fires.
Across Great Slave Lake, residents of the village of Hay River were ordered to leave on Sunday.
Garth Carman, who drove out with his 16 cats, described witnessing scenes like "the apocalypse", with bears and other wild animals being burned to death by the side of the road.
"A wall of flames just washed over the freeway and the trees just started exploding into the fire – poof, poof, poof – one after another, coming our way. It was hell to drive through that," he told CBC.
About 39 km south of Hay River, the town of Enterprise was 90% destroyed by fire.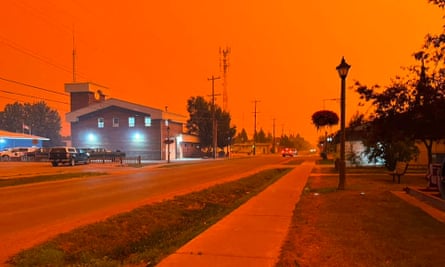 Shane Thompson, the Minister of Municipal and Community Affairs, said Thursday that people now leaving Yellowknife will have to drive 15 hours south to Leduc, Alta., to find housing, as other evacuation centers between two communities are now full.
Alty said the Yellowknife evacuation was announced early to give people time to escape before the blaze moved closer to the freeway.
"The highway is subject to closures at all times. Conditions will be smoky and residents should drive with care and caution," she said. "This is an incredibly difficult time for everyone. Please take care and help each other out however you can. If you're driving and have space, consider bringing a friend or pets.
Residents use Facebook groups to coordinate evacuations and inquire with neighbors.
However, due to Meta's ban on sharing news in Canadapeople cannot share links on Facebook and Instagram to stories with information about evacuations and other fire-related news.
In one of Alty's Instagram stories, she simply wrote, "Listen on CBC Radio or on the web."
This summer saw the hottest day on record in the far north of the country when Fort Good Hope – a community about 500 miles northwest of Yellowknife – hit 37.4C (99.3F).
Source link: https://www.theguardian.com/world/2023/aug/17/yellowknife-wildfire-canada-evacuation