Steve Harwell, the former singer of the American pop-rock group Smash Mouth, has died at the age of 56.
His death was announced by his manager Robert Hayes, who said in a statement to Rolling Stone that Harwell "passed away peacefully and comfortably" with family and friends by his side. "Steve's iconic voice is one of the most recognizable voices of his generation," added Hayes. "He loved the fans and loved playing…Steve lived a 100% full-throttle life. Burning intensely across the universe before dying out.
Hayes did not specify the cause of death, but he told TMZ earlier this week that the singer was suffering from liver failure. Harwell had faced numerous other health problems in recent years, since a 2013 diagnosis of cardiac cardiomyopathy and a neurological disorder, acute Wernicke encephalopathy, which affected his speech and memory. He also suffered from alcoholism.
Born in California in 1967, Harwell formed Smash Mouth in 1994 when his manager and longtime friend Kevin Coleman introduced him to two other San Jose musicians. In 1996, the four men experienced a minor breakout when their song Nervous in the Alley was played by a local radio station while the group was still unsigned.
Record labels quickly showed interest and the band signed with Interscope before releasing their debut album Fush Yu Mang in 1997. With a distinctive sound blending ska, lounge music, psych-pop and more, topped with vocals Influenced by Harwell's hip-hop, the single Walkin' on the Sun became their first major hit, reaching number one on the Billboard Modern Rock Charts and the UK Top 20.
Their second album, 1999's Astro Lounge, contained Smash Mouth's biggest single, All Star, which became a huge international hit and remains the group's only Top 10 appearance on the Billboard Hot 100.
"When Astro Lounge came along, we had enough time under our belt to tour and improve," Harwell told Rolling Stone in 2019. "I was becoming a better singer and our sound started to develop."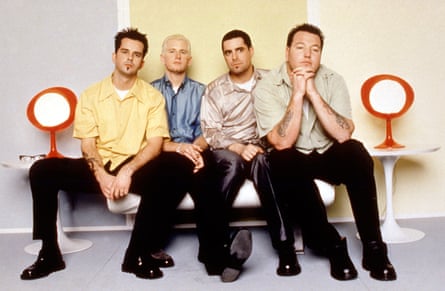 In 2001, All Star was featured in the opening credits of Shrek – a usage that continued to spawn memes and parodies over the next two decades, making the group an internet mainstay. The song now has nearly a billion streams on Spotify.
"At first it was weird and we were a little cautious and resistant," Harwell said of All Star going viral in an interview with Polygon in 2017. "But as we dove into it more …we started to 'get it'."
The band also closed the hit animated film with a cover of The Monkees' I'm a Believer, which reached the US Top 30 – one of several hit covers recorded by Smash Mouth during their career, including a version of War's Why Can. Are we not friends? And ? and the Mysterians can't get enough of you, baby.
Harwell experienced tragedy at the height of the group's fame in 2001, when his son Presley died of leukemia at six months old, and he postponed the release of their self-titled third album. The band has released four more albums, most recently Magic in 2012.
In 2006, Harwell appeared on the VH1 reality show The Surreal Life, where he lived and completed challenges alongside a group of other celebrities.
Later in his career he became a more controversial figure. In 2015, Harwell made headlines for shouting profanities at a crowd in Colorado; he later apologized for the incident. In August 2020, the band was widely criticized for playing a crowded concert in South Dakota during the pandemic, during which Harwell reportedly said, "Fuck this Covid shit!" The concert was later described as a superspreader event.
In 2021, Harwell announced his retirement days after a concert in upstate New York during which he appeared to threaten members of the public and perform a Nazi salute.
At the time, a source close to the band revealed that Harwell was suffering from several health issues. "I tried very hard to overcome my physical and mental health problems and play in front of you one last time," Harwell wrote in a 2021 statement"but I just couldn't do it."
Source link: https://www.theguardian.com/music/2023/sep/04/smash-mouth-steve-harwell-lead-singer-death