US Senate Republican leader Mitch McConnell appeared frozen for more than 30 seconds during a public appearance, weeks after a similar incident sparked concerns for his health.
Asked if he would run for reelection on Wednesday, the 81-year-old Kentucky Republican stopped and stared, before being asked, "Did you hear the question, senator?"
Mr. McConnell remained unmoved before returning and briefly answering another question.
This comes after the senator froze mid-sentence and stared for about 20 seconds during a press conference in July.
After refocusing, Mr. McConnell brushed aside a question he had been asked about former President Donald Trump – another that had to be repeated to him – and left the conference.
A spokesperson for the senator said he "felt momentarily dizzy" before the conference in Kentucky and would seek medical attention before the next public event.
Pressure mounts for McConnell to resign
Repeated demonstrations of Mitch McConnell's apparent ill health have led to calls for his resignation – even from members of his own party.
Normally, if a senator resigns or dies, a state's governor chooses a successor until his or her term ends or until a special election can be held.
That would open the door for Kentucky Gov. Andy Beshear to appoint a Democrat like him.
But the Republican legislature made it illegal to replace McConnell with a non-Republican.
Senate Bill 228 states that Kentucky's governor must choose someone from the same political party as the outgoing senator when temporarily filling his or her vacancy.
Mr. Beshear attempted to veto the bill in 2021, but his veto was overridden.
This means that if Mr. McConnell were to resign, the number of Republican senators would not change – they would just have to elect a new minority leader.
Learn more:
The US Senate's top Republican, Mitch McConnell, is frozen out
Mitch McConnell hospitalized with concussion
Last month, Mr. McConnell froze after approaching the podium for his weekly news conference and speaking about the annual defense funding bill. He seemed to lose his train of thought and cut himself off with an interminable "uh".
Questions were asked about Mr McConnell's health after his speech became more choppy and his walk slower than usual.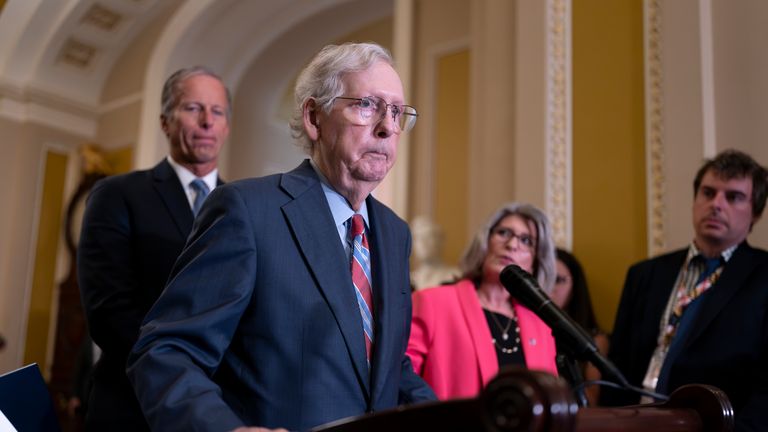 He has been seen using a wheelchair while traveling to and from Kentucky.
In March, Mr McConnell did not return to the Senate for six weeks after suffering a concussion and broken rib after falling and hitting his head at an event.
He also required surgery after another incident in which he fell at home and fractured his shoulder.
As a child, Mr McConnell had polio and he has long recognized some difficulty as an adult climbing stairs.
First elected to the Senate in 1984 and Republican leader since 2007, Mr. McConnell's current term runs until 2026.
Source link: https://news.sky.com/story/senate-republican-leader-mitch-mcconnell-freezes-during-press-conference-for-second-time-in-weeks-12951001