Sarina Wiegman helped her England side bounce back from a heartbreaking loss in the Women's World Cup final. Spain won 1-0 in Sydney to become world champions for the first time. "I have no regrets," the manager said.
"I think we gave it our all. The players gave their all. We tried different tactics. I must also pay tribute to Spain. I think the whole tournament was the team that played the best football."
For Wiegman – who won the European Championship with the Netherlands in 2017 and last year with England – it was a second loss in a World Cup final, having lost with the Netherlands -Bas against the United States in 2019.
"Everyone is very disappointed," she said. "I think we can be very proud of ourselves [but] it just isn't the case right now. It takes a little time. But everything we did – how we grew in the tournament; the challenges we have before and during; how we adapted to the situations. We gave everything we could. »
Asked if the loss made them determined to come back stronger at the next edition in 2027, Wiegman said: "Four years is a long time. We are in a very short time but we will start in September with the Nations League to qualify for the Olympics.
"You want to improve all the time and that's what I see in the team. This group of players are so eager to succeed. So we want to seize every moment and be better. Growth is one of the things that are really on this team, so hopefully we'll be back soon.
Spain controlled possession in a competitive match and held the advantage over England after Olga Carmona's first-half goal put them ahead. The Lionesses' struggles over the ball led to the introduction of Lauren James and Chloe Kelly at half-time, and a tactical change from Wiegman in an attempt to reverse his team's fortunes. While England improved, they lacked the clinical advantage to get back into the competition.
"I think everyone watched an amazing game, a very open game with both teams wanting to play football," Wiegman said. "There were two very different halves for us. We really struggled in the first to get pressure on the ball, so we went back to a 4-3-3 which gave us momentum.
A devastated Millie Bright reiterated her manager's thoughts on the team's ability to recover. "It's not about us," said the England captain. "I'm sure we'll bounce back but for the moment it's hard to take. There are probably a million different feelings. Pride, disappointment – ​​heartbroken that we didn't win. The girls were amazing. We had a lot of criticism, some lost faith in us but we never stopped believing in it. Sometimes football is for you, sometimes against you.
"The mentality and the character have always been there. We show it day after day and in every game. We have just played in a World Cup final, it's hard to see him like that at the moment. We played on the highest stage. We had a chance to compete for the trophy we always wanted. This is not the end of the journey.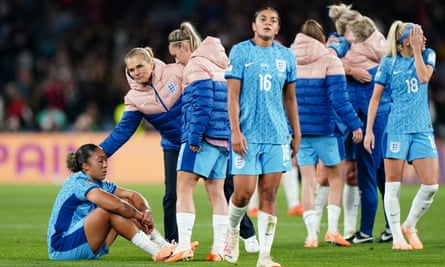 Lucy Bronze said: "I'm just deflated. Obviously we went into the World Cup wanting to win it and we were so close, but in the end we couldn't quite get it over the line. I think we showed that, against adversity, we showed up. We were determined and resilient throughout ... We showed resilience to carry on and keep fighting."
The full-back was adamant this was not the end of her international career. "I am not retiring from England if that is what you mean. I think we have a really strong squad. I think we showed that with the fact that we have made a final and nearly won, nearly took it to extra time with many players from [the] Euros having retired or got injured. The starting XI tonight, especially in attack, was very young and they have many tournaments ahead of them.
For Spain, the victory comes after an extremely difficult year in which 15 players withdrew in protest against the Spanish football federation and head coach, Jorge Vilda. Only three of them returned for this tournament and there was no sign of an end to their woes off the pitch despite winning the World Cup with the team's official Twitter account displaying "Vilda in" on a photo of the division leader kissing the trophy.
Vilda wouldn't be fired about her future after the match. He said: "We are going to celebrate the World Cup and return to Spain. Then we'll see. I have always said that if all the suffering was necessary to become world champions, it was worth it.
"It was difficult on a personal level in management, but on a sporting level we achieved results that we had never achieved before. I am very happy that we are world champions.
Source link: https://www.theguardian.com/football/2023/aug/20/sarina-wiegman-england-spain-world-cup-reaction