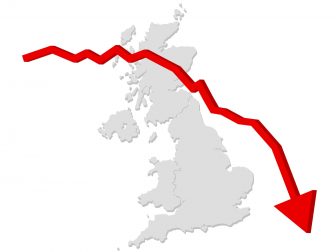 UK house prices suffered their biggest annual fall in 14 years as the seasonal summer slump and high mortgage costs weighed on sales.
Data released yesterday by Halifax revealed that house prices fell by an average of 4.6% in August compared to the corresponding month of 2022, marking the biggest year-on-year fall since 2009.
This means the price of a typical UK house has fallen by around £14,000 over the past 12 months to £279,569 – the lowest level since the start of 2022.
Kim Kinnaird, director of Halifax Mortgages, said the traditional slowdown in home purchases over the summer months also played a role in last month's slump, but Halifax expects house prices to fall further in the during the new year.
Industry reaction:
Matt Thompson, Sales Manager at Chestertons, said: "With the impact of higher interest rates on UK households, property buyers are adopting a more strategic and flexible property search by adjusting their budget or broadening their search criteria to find a suitable home. Although some buyers took a break during the August holidays, others took advantage of the past month to start price negotiations or close the deal by signing contracts.
Nathan Emerson, CEO of Propertymark, commented: "Fortunately, house prices are adjusting to more reasonable levels as personal incomes rise and the number of properties selling below asking price is increasing, providing buyers with the opportunity to negotiate. These factors all help to increase housing affordability for buyers and soften the blow of rising interest rates.
"However, despite what it may seem at first glance, sellers are still motivated to sell, and rightly so, as they continue to realize a substantial appreciation on the price of their property."
Nicky Stevenson, Managing Director of Fine & Country, said: "Higher borrowing costs, combined with the traditional summer slowdown, have dampened house price growth, although average prices remain well above pre-pandemic levels.
"The number of properties available for sale remains constrained compared to 2019, which was a fairly typical year for the real estate market. This helps prevent prices from falling further, even if affordability is limited.
"Although demand has slowed over the summer, it is in line with normal seasonal trends and should pick up as the fall approaches.
"Mortgage lenders are once again competing for business and are reducing mortgage rates accordingly, which will ease pressure on homebuyers and further support demand over the coming months."
"If a pause in base rate rises materializes this year, this should further boost buyer confidence."
Tom Bill, head of UK residential research at Knight Frank, said: "House prices have fallen as mortgage rates have risen, but the political and economic volatility of the past 12 months has had a negative impact on confidence. Buyers and sellers knew interest rates would rise after being near zero for 14 years, but they just didn't expect to feel like they were being strapped into a roller coaster.
"We don't expect a critical moment for prices, but a single-digit decline this year is likely to be repeated next year. A strong labor market, flexible lenders and the prevalence of fixed rate trading in recent years will all act as shock absorbers, but confidence will only improve when there is more certainty than the current cycle of rate hikes is over. Even then, the adjustment to rising borrowing costs and the approach of legislative elections do not allow us to expect the real estate market to run at full speed.
Jonathan Hopper, CEO of Garrington Property Finders, commented: "Despite the emergence of some prematurely optimistic voices, this is not a passing setback for the property market.
"The reason is affordability. Interest rates have risen significantly and average house prices have fallen slightly – at least from their high level.
"With this monthly decline, questions will be asked about the rate of descent and whether we are still on track for a soft landing.
"The rising cost of mortgages and the reduction in the amount of money potential buyers can borrow have not been sufficiently offset by lower prices.
"As a result, some buyers who need a mortgage to finance their purchase are postponing things in the hope that prices will drop further, or are looking for a smaller home in a cheaper area.
"At the same time, in the high-end segment, cash buyers feel their hand is getting stronger and stronger.
"Those who have a decent amount of money can afford to be more pragmatic in how they structure their finances and their housing search strategy. And while everyone is hesitant to pay a price that might be lower in six months, engaged and committed buyers find themselves in a dominant position as sellers now routinely accept offers well below the asking price.
Iain McKenzie, CEO of the Guild of Property Professionals, said: "House price volatility continues with the steepest fall since the disastrous effects of last year's 'mini-budget' began to be felt.
"Sellers may be worried about their home's value dropping, but keep in mind that it's still worth a lot more than before the pandemic. The readjustment we have seen this year simply takes us back to early 2022 levels.
"Much of this change is driven by the greater flexibility in asking prices we are seeing across the country. The south of England is particularly hard hit by falling house prices, although many first-time buyers in parts of the south have found the market unaffordable for years.
"The landscape is unlikely to change anytime soon. Continued demand for good quality housing is keeping house prices high, but affordability concerns and slowing mortgage approval rates are holding back growth.
"The autumn months are typically still busy as Brits look to settle into their new homes before winter sets in. It remains to be seen whether we will continue to see these sudden drops in house prices real estate."
Jason Tebb, CEO of OnTheMarket, commented: "As the annual decline in average house prices continues, the high cost of living and numerous rate hikes are impacting the amount buyers are willing and able to pay for their next home.
"However, given all the economic uncertainty, it is remarkable how the market appears relatively stable following a period of unprecedented growth in house prices, fueled by a lack of supply and demand.
"There are fewer speculative buyers and those who are there are determined and focused on moving, although they are much more price sensitive than 12 months ago when prices were at record highs. Sellers should seek advice from an experienced agent to ensure they are entering the market at the right level to attract them.
James Forrester, Managing Director of Barrows and Forrester, added: "On the face of it, such a steep annual decline is sure to spark panic among the nation's home buyers and sellers. But it's important to remember that this time last year, the market was booming at the height of the pandemic-related price surge. It would therefore have taken a monumental increase in market activity this time to avoid an annual decline in property values.
"It's also important to note that August is peak season for the UK property market and so there is a strong seasonal influence at play here. Buyers, sellers and real estate professionals will have taken their summer vacations off, resulting in reduced market activity and a slower rate of growth in real estate prices.


Source link: https://propertyindustryeye.com/property-industry-reacts-to-another-drop-in-uk-house-prices-3/