A heartwarming moment happened at the World Championships in Athletics between Katie Moon and Nina Kennedy when the pair decided to split their gold in the pole vault.
America's Moon and Australia's Kennedy could have gone head-to-head in a shoot-off to decide the outright winner of the gold medal, after both reaching the same height during the competition.
A massive jump of 4.90 meters was cleared by both competitors, before each managed to clear 4.95 meters three times. The fight between the two men lasted over two hours, so the decision to split the spoils ended up not being the biggest shock ever.
The 2023 World Championships in Athletics saw a brilliant moment between the pair as they embraced each other and came to the conclusion that they should both be winners, and it's hard to argue that it was the best result for two brilliant athletes.
The footage shows Kennedy in particular very emotional as she learns the reality that she has won a gold medal in her sport. Both performers were then greeted with a warm welcome from the crowd as Kennedy was moved to tears.
Kennedy can be heard asking Moon, "Are you sure?" while the conversation continues. It really warms the heart to see two top athletes put all egos aside to recognize each other.
Wilma Murto of Finland finished the competition in third place, winning a bronze medal, and could be seen hugging Kennedy as the trio celebrated their respective achievements.
Katie Moon delighted with the result
It's obviously very hard to imagine athletes of such high quality entering a competition with the intention of sharing first place with someone else, and even Moon was ultimately surprised by her decision with Kennedy.
According to BBC Sport, Moon said: "When the final started I didn't think sharing a gold medal would work for me, but now I'm completely satisfied."
The American continued: "What a battle it was, oh my. What an amazing night, I hope everyone enjoyed that one. We did it."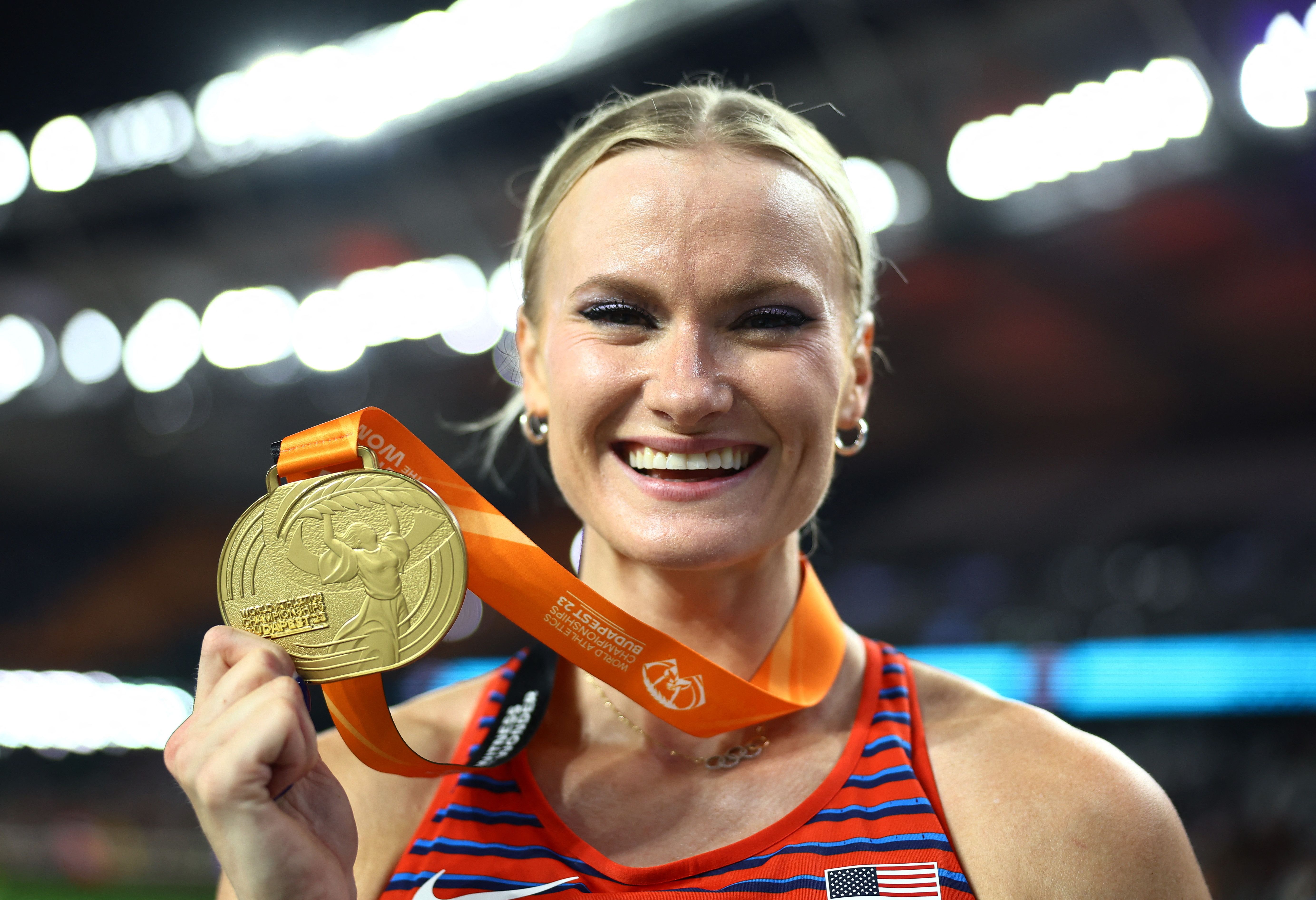 Kennedy was equally happy with the outcome, calling the experience "a dream come true," before adding, "I jumped out of my skin tonight. It was super crazy."
Paying tribute to the audience at the event, the 26-year-old said: "I felt like the whole stadium was watching every jump, they were all around us tonight, it was really amazing."
It's not the first time a gold medal has been shared
In 2021, at the Tokyo 2020 Olympics which had been delayed due to COVID-19, Mutaz Essa Barshim and Gianmarco Tamberi shared the high jump gold medal.
Both men managed to jump a staggering distance of 2.37 meters, but neither of them managed to exceed this distance. Very similarly, a conversation ensued and both men thought it best to share the accolade. This is a very rare phenomenon and unlikely to be seen regularly in the future.
Learn more: Tokyo Olympics: Mutaz Barshim and Gianmarco Tamberi agree to share high jump gold medal
Source link: https://www.givemesport.com/katie-moon-nina-kennedy-share-pole-vault-gold-medal-at-world-athletics-championship/