Katarina Johnson-Thompson used to stare at the three-inch scar that snaked along her left Achilles tendon and feared her best days had abandoned her. In truth, we have all done it. Yet there she was on the banks of the Danube, in the midst of tears, doubts and smiles, waltzing in the joy of becoming world heptathlon champion again.
"It's the best day of my life," she said after coming back so unexpectedly it took her a while to believe it was real. "I promised to break my heart again, but this time I didn't."
On a night when Zharnel Hughes also won Britain's first men's world 100m medal for 20 years, Johnson-Thompson's epic clash with 22-year-old American superstar Anna Hall came down to 800m and a brutal equation . Stay within three seconds of Hall and the gold medal was hers. The problem was that her personal best was five seconds slower than her rival.
At the time, Hall had a huge bandage protecting an injured left knee, but she still fought her way halfway in 58 seconds – one second ahead of Johnson-Thompson. Yet at 600m the gap extended into the danger zone, and the British team feared the gold was slipping away.
But when the second wind came – and the benefits of weekly brutal sessions with her trainer, Aston Moore, in Loughborough paid off – she started to close again.
"I don't remember the race, I was just watching his back," Johnson-Thompson said after crossing the line in 2:05.63, just 1.54sec behind Hall. "I was in full robot mode. I wasn't thinking. I looked at the time halfway through and thought 'this is fast'. Normally I would think 'this is fast, you're going to die , slow down'. But I just went with it. My instructions were not to let 20 meters pass.
Johnson-Thompson knew the victory was his, even before the stadium scoreboard showed his final tally of 6,740 points, 20 ahead of Hall, with Anouk Vetter of the Netherlands third on 6,501.
Then came a moment both intimate and cosmic, as she leaned down to hug Hall, who had fallen to the ground from exhaustion. Johnson-Thompson told her rival. Hall's response? "It's super inspiring what you've done."
Minutes later, when she faced the media from around the world, the 30-year-old Johnson-Thompson was asked if she believed she could become world champion again. "No. I didn't," she replied, holding back more tears. "I just thought I'd fade away and be one of those athletes who's only here to do figuration."
But who could blame her given that in 2020 she feared her career was over after tearing her Achilles tendon? Then, at the Tokyo Olympics, she had to leave the track in a wheelchair after tearing her right calf muscle. Really Johnson-Thompson could teach Judy Blume a thing or two about grief.
This time, however, she was determined to write a different story. Johnson-Thompson had started day two in second place, 93 points behind Hall, but immediately set a milestone with a 6.54m jump that catapulted her 19 points ahead.
Johnson-Thompson knew she needed more and applied javelin compression again with a career-best throw of 46.14m. No wonder she put her hands to her face in a mixture of joy and disbelief. Yet an even greater joy was to come.
Shortly after, the British team celebrated another medal as Hughes won a bronze medal in the 100m. Victory went to the fiery American Noah Lyles, who finished in 9.83 seconds, while Letsile Tebogo, 20, of Botswana, took silver in 9.88, along with Hughes.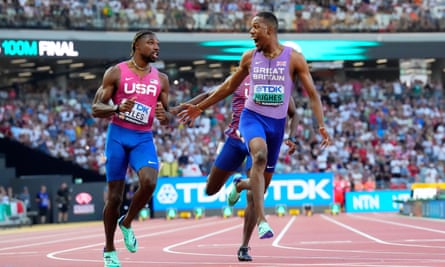 "It's been years of trying, years of lessons," Hughes said afterwards, as tears flowed. "I wouldn't call it a failure – just years of lessons. The doubts were there. People probably didn't believe in me, but I needed to believe in myself. The speed was always there, but the mind wasn't aligned properly.
The 27-year-old Briton had arrived in Budapest having broken the British 100m and 200m records and set the world's best time this year. But as he lined up for the final, he knew it wasn't just about numbers but nerve.
The last time he was in such company, during the Olympic final in Tokyo, Hughes had made a false start. This time there was no mistake, but a slow recovery meant he had too much to do to win gold in the final 70 metres.
Not that Hughes was too disappointed with the bronze. "Honestly, it's a dream come true," he said. "In the past, my thoughts would run wild. I was thinking too much. This time, I left myself free.
There was also a helping hand from a former British Olympic and world champion, Linford Christie. "Big shout out to him," Hughes said. "Linford said, 'Just relax Zharnel. If you stay in the mix, you're going to get a medal. I just listened. He has been reached.
Source link: https://www.theguardian.com/sport/2023/aug/20/katarina-johnson-thompson-stages-great-world-championship-comeback