Former England football star Paul Gascoigne kissed Prince William on the cheek during the royal's visit to a Pret A Manger store.
The Prince of Wales visited the branch of Bournemouth downtown on Thursday to discuss the Pret Foundation's projects to help homeless people get back to work.
Gascoigne, a former Newcastle, Tottenham and Rangers star, who lives nearby Dorset town of Poole, was part of the crowd at the event and was greeted by the prince.
As the pair shook hands, the 56-year-old former footballer – better known by his nickname 'Gazza' – leaned over to William and planted a kiss on his cheek.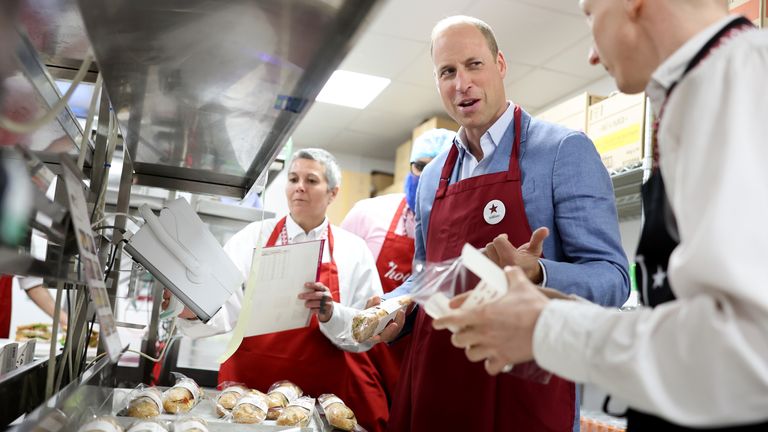 Afterwards, he told The Sun: "I walked past Pret and someone said William was there.
"I've met him many times and I met him at Wembley, he loves his football, I climbed up a few chairs to talk to him and gave him a peck on the cheek."
Prince William said: "It has been a very interesting morning. »
"We even ran into Gazza, he ran into (Pret)."
Please use Chrome browser for a more accessible video player


0:59

Prince William was surprised by former England footballer Paul Gascoigne
Learn more:
Prince William stuns diners in catering vans
The king and queen surprise spa guests
The Pret Foundation program aims to help 500 homeless people find jobs in Pret stores across the country.
Prince William has been involved in projects to tackle homelessness in the UK and in June last year he was spotted on the streets of London selling Big Issue magazines.
He arrived in the Dorset town by train, with a video posted to his official account on X, formerly known as Twitter, showing him arriving at the station.
Twitter
This content is provided by Twitter, which may use cookies and other technologies. To show you this content, we need your permission to use cookies. You can use the buttons below to change your preferences to enable Twitter cookies or to allow these cookies only once. You can change your settings at any time via the Privacy options.

Unfortunately, we were unable to verify whether you consented to Twitter cookies. To view this content you can use the button below to allow Twitter cookies for this session only.

The message read: "In June we launched HomewardsUK, a five-year program to show that ending homelessness is possible.
"Today we are in Bournemouth, one of six Homewards locations, to see how they are doing and explore the role local businesses can play in supporting our mission."
Prince William also visited Bournemouth AFC's Vitality Stadium to hear about the Premier League football club's work within the community to support those at risk of homelessness.
Source link: https://news.sky.com/story/former-england-star-paul-gascoigne-kisses-prince-william-during-visit-to-bournemouth-pret-a-manger-12956794