Key events
Player of the Match, George Ford, is offering thoughts.
"Delighted with another win. A tough game, we knew it would be as Japan never give in, and it took until about third or fourth quarter to pull away. We had to change the way we attack to get the points we needed but there's no frustration from our end, we know what it takes to win test matches. We're two from two, but we've got to get better next week, and there's more in us."
FULL TIME! England 34 – 12 Japan
That was the final act of the match and England have a bonus point win.
TRY! England 34 – 12 Japan (Joe Marchant)
80 mins. Itoje claims the lineout and most of the team join the ruck before Earl breaks off and sets some phases off. It's a little clumsy, but they put enough shape on it for Marchant to crash over off and angled run.
Ford converts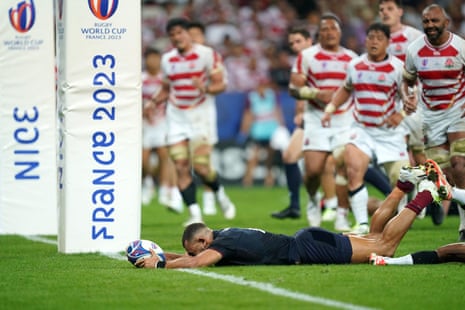 78 mins. England have a penalty on the 10m line and Ford puts it in touch in the Japan 22.
75 mins. Japan have some ball and work through some phases with all the vim of work quiz night attendees. Matsuda gets bored and boots it to no-one in particular.
72 mins. The ball bounces off Lomeki's face as he attempts to field a kick and in the broken play England start flinging it about. It's frantic, but they hold the ball amidst many passes and offloads and are up to the line. Once within a metre, the one man carries start and eventually the Japanese defence get amongst the ruck and win a penalty.
TRY! England 27 – 12 Japan (Freddie Steward)
65 mins. A very poor scrum exit from Japan has the ball popping out to early, meaning Nagare has to shovel it to Matsuda who is swamped by England defenders and driven back over the line.
From the scrum-five, Ford simply caresses the ball with his left foot to Steward on the touchline who gathers and grounds. Ford adds an impressive touchline conversion.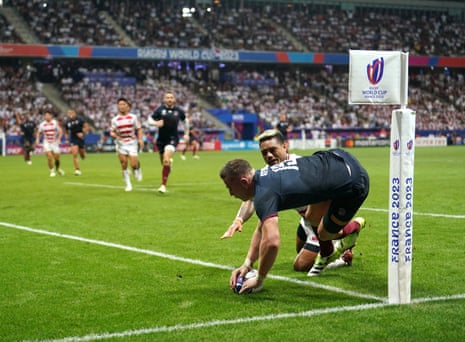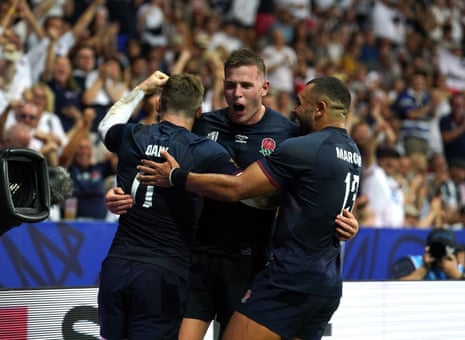 63 mins. The game is becoming a hot mess now, ragged as hell and very little shape and England capitalise on a loose Lomeki kick to work up the right and into the 22. Ford is nearly through a gap near the line but his offload is fumbled forward by Steward. Japan will have a tricky five metre scrum to navigate.
George Martin has replaced Lawes.
61 mins. Japan attempt a Bolshoi Ballet-esque movement for a lineout that ends with Horie flinging the ball squint and England decide to take the scrum. Youngs works it quickly away from the base and some metres are made before a big counter-ruck from Japan wins the ball back.
58 mins. A feverish period of possession from Japan, sparked by Matsushima drifting across the line in his own 22 before stepping and racing 60 metres. He can't go the whole way and the ball is recycled for more runs before there's a knock on under no pressure from a pass by Yutaka Nagare.
Joe Marler and Alex Mitchell off for Ellis Genge and Ben Youngs
TRY! England 20 – 12 Japan (Courtney Lawes)
55 mins. England work some more phases around halfway, with Ford calling some runners off him before releasing the ball right. Earl is set free down the touchline but hauled down and as the ball is moved left it slaps backwards off Will Stuart's arm, bounces forward off Marler's head and into Lawes's grasp who canters over to score.
Japan were all stood about waiting for the whistle for the knock on that never came!
Ford adds two.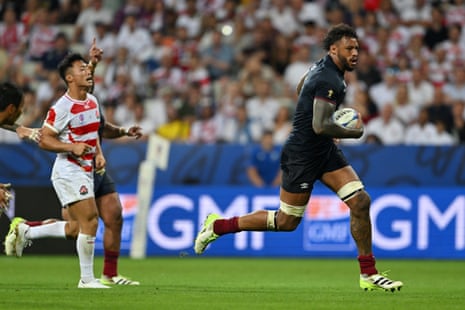 PENALTY! England 13 – 12 Japan (Rikiya Matsuda)
53 mins. Craig Millar, on for Keita Inagaki, drives the ball in and Chessum is slow to move away from the ruck. It's just outside the 22, so Matsuda makes it a one point game from the tee.
51 mins. Billy Vunipola and Will Stewart replaces Lewis Ludlam and Kyle Sinckler for England
50 mins. There are some decent phases from England, with some actual pattern developing around Ford. This works them into a promising position just short of the 22 before Ford decides to loft the ball forward with his boot with no chasers and no clear impression of why the option was taken.
48 mins. A promising position for Japan just inside the England half is squandered by Himeno dropping a ball he had two hands on.
You can't deny, this is awful stuff all round.
46 mins. There's a chance for England in the Japan 22, but it's all very indecisive in broken play and eventually the ball goes to ground as the ball is shovelled to no-one in particular and Matsuda can clear.
Mitchell then boinks a kick all the way dead from the base of a ruck.
England have upped the intensity, but the precision appears to be inversely suffering as a result.
42 mins. England work it left from the restart, finding Daly on the left who motors forward before being put in touch by Fakatava. A few phases later, there's a chargedown of Matsushima's kick, which England look to capitalise on but Himeno is on the ball at the ruck to win a turnover.
Lomano Lemeki kicks it deep to start the next period of play
"I'm here in Nice," confesses David Singer, "great atmosphere before the game and great to watch Australia vs Fiji in the bar beforehand. But this has been the dullest part of our trip. Honestly what's the point?"
What's the point of being in Nice? I'm sure you can think of something?
"Top trolling from Borthwick and members of the England camp indicating we might see more of England's attacking game in this match," says John Paterson, "they have a gameplan which they evidently think will win them the match – and it may well do so – but they clearly have zero interest in running with the ball."
There were a couple of patterns where you could see England had set up to run something, but poor handling and general mediocrity meant it couldn't get beyond a couple of phases.
Argentina was a solid but limited win, and make no mistake, England remain a fundamentally flawed team.
HALF TIME! England 13 – 9 Japan
PEEP! That's yer lot for this half
PENALTY! England 13 – 9 Japan (George Ford)
40 mins. Japan gift the ball back to England in the last minute, and then Matsuda adds insult by wandering offside. Ford asks for the tee to kick and end the half with another three points.
38 mins. Everyone was expecting a catch and drive followed by a slow, groaning maul over the line. Instead, Earl tries to pop it to Ludlam and misses him with pass which then bounces off George who wasn't expecting it and knocks it on.
Poor.
36 mins. Japan move the ball left from the scrum and Matsuda, clearly caught in three minds, takes the option that is chipping over the top. Not only was it the wrong option he also boings it into touch on the full.
England catch and drive the lineout, Japan are offside, so Ford puts it in the corner.
34 mins. For a moment, England looked in deep trouble as Leitch gathered a loose ball with a lot of pitch to move into, but the veteran backrow's attempt at a kick and chase was not great – the ball powderpuffing off his boot, allowing Earl to snatch it back. A few phases later Matsushima knocks on attempting to claim a kick.
More handling errors ensue as neither side can put anything of note together, ending in a Japan scrum on their own 22. Sigh.
PENALTY! England 10 – 9 Japan (Rikiya Matsuda)
31 mins. May clatters Lomeki late after the fullback puts a clearing kick in, and so a penalty is awarded where the ball landed in England's half. Matsuda does the necessary from the tee.
MISSED PENALTY! England 10 – 6 Japan (George Ford)
29 mins. Matsuda puts a hit on Tuilagi, the only problem was he didn't have the ball as the centre was running a dummy line. Penalty given but Ford pushes it right of the posts.
"Only way England can score a try is if the opposition literally hand it to them" snarks Andy Bradshaw.
He's not wrong.
TRY! England 10 – 6 Japan (Lewis Ludlam)
24 mins. Ford sends a kick into the corner to force Japan to take it into touch. Horie's darts in the lineout are poor again, allowing Itoje to slap it back and a couple of phases later Ludlam forces over to score.
Ford converts.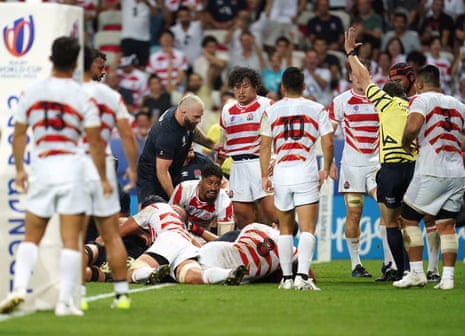 PENALTY! England 3 – 6 Japan (Rikiya Matsuda)
22 mins. Japan have the ball in the England half again and are once more recycling quickly and forcing the defenders offside. On the advantage, Matsuda chips over and Lemeki is this close to grabbing it with the line at his mercy, but he fumbles it forward.
Back for the penalty, which Matsuda hammers over.
20 mins. The scrum completes this time and Matsuda charges down Ford's attempted clearance. It's a footrace as the ball hurtles towards the line with Mitchell first to it, followed by Daly. It looks to me like Daly sealed it off as he arrived, but the ref disagrees and the ball is recycled and cleared.
18 mins. Lawes gets up imperiously in front of Labuschagne to nick a Japan lineout. It rebounds to Horie who knocks it on and from the resulting scrum the Blossoms are pinged for collapsing.
But wait! The pitch has literally come up like a carpet, so the ref isn't gong to penalise them for losing their footing.
It was a tough opening few minutes for Japan, but once one the ball they've put England under a bit of pressure and moved quickly up the field. For their part, England may find that the kicking game that asks Japan to run back at them may be more tricky then the whiteboard planning suggested.
PENALTY! England 3 – 3 Japan (Rikiya Matsuda)
14 mins. England catch and drive a lineout just inside the Japan half and it's slowly oozing forward towards the 22 before the ball is released an immediately lost to Nakamura. The Blossoms are quick to spring on the counter, and are up the the England 22 in no time, offloading and making the England defence work.
Matsuda looks to his left and fires a cross-kick towards Naikabula, but it's too high and floats into touch.
However, it was on an advantage so Matsuda tees it up and brings his side level
8 mins. Very good set from Japan, who work the ball left to right across the halfway before Matsushima slides a kick into the corner which Daly can gather from Ford, but is then forced into touch.
Japan claim the lineout, but the timing in the backs is a little off, allowing Marler to clamp onto an isolated runner to win a penalty.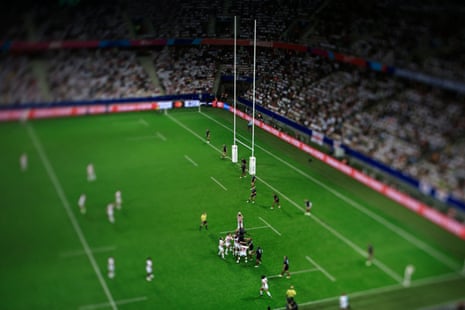 6 mins. England have received a kick twice and each time they have worked it left for a kick in behind Matsushima on the Japanese right wing. The third kick they field is then launched high by Ford towards the same area.
It's fairly safe to say there's a strategy in place from Borthwick.
Matiwera took a post-kick whack from Earl in backfield and he's limping off to be replaced by Lomano Lemeki. Hell of a 5 minutes from the Japan fullback: knocked it on then got injured.
PENALTY! England 3 – 0 Japan (George Ford)
3 mins. Marchant hits an angle off the scrum and is stopped just short of the line but Japan drift offside as they scramble to organise and stymie the England attack.
Ford takes the very easy points.
1 mins. England receive a clearance kick and work a passing pattern to Daly on the left who rolls a kick too long into the Japan in-goal. Simple for fullback Semisi Masirewa, but he fumbles is as he attempts the pickup! England scrum five coming,
George Ford, hammer of Los Pumas, has the ball and he bungs it long to get us underway
Japan make their way out to the tunnel, followed by England, each team taking the claps and slaps from the wider squad and staff. They form up into lines and stroll onto the immaculate surface and into the hot and humid late summer night in Nice.
Pre match reading
Johnny May thinks England should be wary of Japan.
Where are England coming into this match? Give me what you reckon on this and anything else via email or Xitter
Steve Borthwick makes three changes to his starting XV. Kyle Sinckler and Joe Marler are in the front row, while Lewis Ludlam is preferred at No.8 to Billy Vunipola who is available after suspension. Courtney Lawes will captain from blindside and Ben Earls moves to openside.
Japan head man Jamie Joseph rings four changes, bringing Shota Horie, Pieter Labuschagne and captain Kazuki Himeno into the pack, while Tomoki Osada is in the centres.
ENGLAND Freddie Steward; Jonny May, Joe Marchant, Manu Tuilagi, Elliot Daly; George Ford, Alex Mitchell; Joe Marler, Jamie George, Kyle Sinckler; Maro Itoje, Ollie Chessum; Courtney Lawes (captain), Ben Earl, Lewis Ludlam
Replacements: Theo Dan, Ellis Genge, Will Stuart, George Martin, Billy Vunipola, Ben Youngs, Marcus Smith, Ollie Lawrence
JAPAN Semisi Masirewa; Kotaro Matsushima, Tomoki Osada, Ryoto Nakamura, Jone Naikabula; Rikiya Matsuda, Yutaka Nagare; Keita Inagaki, Shota Horie, Jiwon Gu; Jack Cornelsen, Amato Fakatava; Michael Leitch, Pieter Labuschagne, Kazuki Himeno (captain)
Replacements: Atsushi Sakate, Craig Millar, Asaeli Ai Valu, Warner Dearns, Kanji Shimokawa, Naoto Saito, Dylan Riley, Lomano Lemeki
After a surprisingly decent win over Argentina, England continue their Pool D journey this French evening against Japan, who have a victory of their own after an entertaining outing with Chile from the opening fixture block.
The doomsayers have throttled back on the talk of the demise of Steve Borthwick's team's hopes after George Ford led the charge of the boot brigade last weekend. And while this newfound optimism would do well to be tempered with some context – Argentina were absolutely terrible – a win against Japan is expected and anything less, unacceptable.
The Brave Blossoms have pushed England previously in a 2018 match at Twickenham that had them on top until a late rally by the home side took the result. However, that was a Japan deep in prep for their own 2019 Rugby World Cup and the 2023 vintage looks a long way shy of that quality.
England are well placed to progress, and while their present approach to play may not have many advocates outside of their squad, the efficacy so far is less up for debate. Expect more of the same today, this is Tournament Rugby™, after all.


Source link: https://www.theguardian.com/sport/live/2023/sep/17/england-v-japan-rugby-world-cup-2023-live