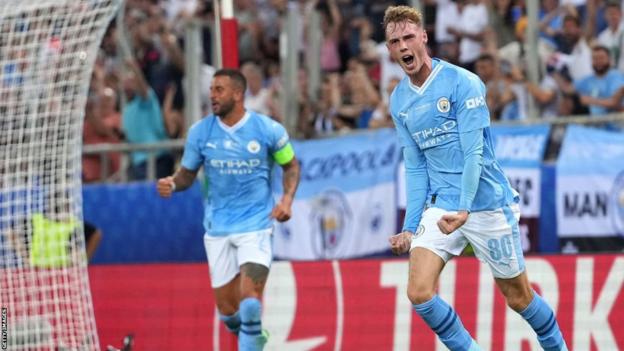 Chelsea are close to signing Manchester City and England Under-21 striker Cole Palmer.
It is understood that terms have not yet been agreed by the clubs, but a decision is likely this summer.
Manager Mauricio Pochettino has said the Blues could look to sign an additional attacking player during this transfer window, but insists a new signing should fit the right 'profile'.
Palmer can play in various positions both on the forward line and in midfield.
He was part of the England youth team which won the European Under-21 Championship earlier this summerand is a product of the city's academy.
The 21-year-old started the season well at City and scored in the UEFA Super Cup win over Sevilla and the Community Shield loss to Arsenal.
City manager Pep Guardiola has already said that Palmer will not be allowed to leave on loan. West Ham had been keen to sign him earlier in the summer, but this was seen as a loan approach.
Chelsea manager Mauricio Pochettino said he "couldn't talk about players that don't belong to us" when asked about Palmer on Wednesday.
"I don't know anything at the moment," Pochettino said after his team's meeting. 2-1 Carabao Cup win over AFC Wimbledon.
"The club didn't tell me. I don't want to talk about a player who still hasn't signed."
Asked if Chelsea would make any further moves during the transfer window, which closes on Friday, Pochettino added: "Maybe yes, maybe no. Maybe you know better than me what's going on. happens."




Source link: https://www.bbc.co.uk/sport/football/66658861