The best summer of Coco Gauff's career began with a dose of crushing disappointment. After arriving at Wimbledon full of hope, her high ambitions were instantly extinguished with her first-round elimination. Many sleepless nights followed as she tried to figure out how to take the next step in her career.
It is to Gauff's credit that his work ethic and commitment continue to pay off. In a tension-filled meeting that was delayed due to protests by climate change activistsGauff's consistency and composure guided her to her first US Open final by beating Karolína Muchova 6-4, 7-5.
The win marks Gauff's second Grand Slam final after finishing second to No. 1 Iga Swiatek at Roland Garros last year. Since that fateful first-round Wimbledon loss to Sofia Kenin in July, Gauff has won 17 of her last 18 matches and is on an 11-match winning streak. She is the youngest American player to reach the US Open final since 17-year-old Serena Williams won in 1999.
"After Wimbledon, I honestly didn't expect to do well in this hard court season, so I'm really proud of how I've been able to turn this season around for me," Gauff said.
"I still think I have a lot to improve on, but yeah, 100% I didn't think these results would happen. Even after DC, I didn't think it would happen. Even after Cincy [Cincinnati], I didn't think that would happen. I'm really proud of myself and there's still a long way to go.
Gauff will face Australian Open champion and new number 1 Aryna Sabalenka in the final after the Belarusian survived a bruising first battle with Madison Keys, recovering from a 0-6, 3-5 deficit to closing an incredible 0-6, 7-6 (1), 7-6 (5) and also reaching his first US Open final.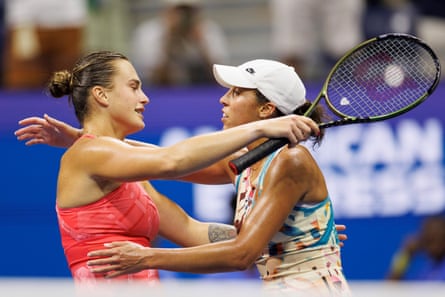 The opening semi-final featured two of the summer's in-form players in a rematch of the Cincinnati final won by Gauff. However, a US Open semi-final is an entirely different challenge. While Gauff seized the moment with confident and consistent counter punches, Muchova sprayed errors on both groundstrokes which allowed Gauff to seal the first set 6-4.
At the start of the second set, with Gauff leading 1-0, climate change protesters halted play by chanting from the top of the stands at Arthur Ashe Stadium. Two of the spectators were escorted out of the stadium but, after one of the activists stuck his bare feet to the concrete floor, the match was delayed indefinitely. Both players finally left the field.
"I always talk about preaching about how you feel and what you believe," Gauff said afterward. "It was done peacefully, so I can't get too upset about it. Obviously I don't want that to happen when I win 6-4, 1-0, and I wanted that momentum to continue. But hey, if that's what they felt they had to do to make their voice heard, I can't really be upset about it.
Forty-nine minutes later, the players returned and the level rose dramatically. Her groundstrokes failing to hold up in the extended rallies, Muchova utilized her deep shooting toolbox as she opted to relentlessly attack the net. Gauff's consistency continued as she reached match point on her 5-3 serve, but Muchova saved her and got back in contention at 5-5.
In the end, it took everything for Gauff to close out a long and brutal final game on Muchova's serve as the Czech continually fended off match points with her courageous and varied attacking play. After a breathless 40-shot rally, the longest in the tournament by any draw, which earned him his sixth match point, Gauff maintained his resolve and sealed the biggest victory of his life.
Even though Gauff is still only 19, it has already been a long journey. The initial breakthrough and the hype that immediately followed eventually led to discussions that she was not meeting the timeline they had set for her career. Over the years, she has gained a better understanding of the importance of moving forward at her own pace, in her own time. As a result, she is a finalist at a home Grand Slam for the first time in her young and flourishing career.
"I grew up watching this tournament, it's so special," Gauff said. "But the job is not finished."
As Gauff departed, two of the greatest shooters of the last decade followed and it was Keys who was in stunning form, hitting winners from all parts of the pitch and kicking the ball so hard even Sabalenka couldn't keep up . But through her frustration and anger, Sabalenka found a way to hold on long enough until Keys' level started to drop.
Having retreated from the abyss and fought her way to the ascent, Sabalenka had to overcome one final hurdle after celebrating her victory prematurely, forgetting that the decisive tie-break is first at 10 instead of seven.
This was particularly important given that Sabalenka had gone 1-5 in the Grand Slam semi-finals, with all five of her defeats coming in three tight sets, failing to overturn numerous leads. Even after winning his first Grand Slam title in Australia this year, two more crushing defeats followed at Roland Garros and Wimbledon. Ultimately, she survived and reached her second Grand Slam final.
"I kept reminding myself that I lost a lot of tough matches," Sabalenka said. "One day, all these matches should help me in one way or another. That kind of thinking helps me stay in the game and gives me some hope that I can turn this game around, that the game is only over at the last point and I just have to keep fighting, keep going trying to find my rhythm, my game, just finding myself.
Source link: https://www.theguardian.com/sport/2023/sep/08/us-open-2023-results-semi-final-coco-gauff-vs-karolina-muchova